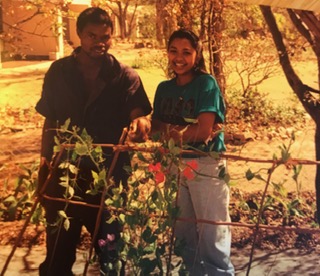 "Meddum," she said. "I have some bad news. Nelson is in prison!"
It was the jetlag, I thought, I couldn't have heard right. It was bad enough coming home to find Saziso, our lovely housemaid, pregnant. We'd only been gone a month; how did I not know before?
Trying to get my travel weary brain to focus, I asked "Nelson? Prison? How? Why? When?"
Apparently, the police had just turned up at our house two days ago and told her. Saziso had tried to find out, but as was the norm here, she wasn't told anything. Neither were our local friends who she had gone to for help.
"Not Nelson," we muttered despairingly, he was the sweetest man God had ever created, with an extra heart where the brain should have been. My husband went directly to the local police station, while I came inside to unpack, shower, and make sense of it all. Random arrests in Hwange were not uncommon, but what could the authorities possibly want from a simple, hardworking, and honest gardener? I found myself in tears, thinking of our dear sweet boy.